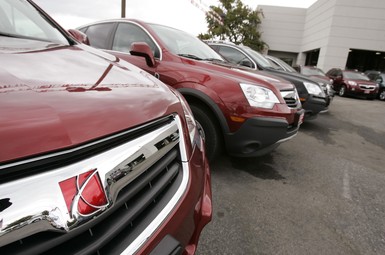 Could the Saturn brand really be dead? Unfortunately the answer is a yes. Autoblog has just gotten word that the deal that Penske was working on to purchase the Saturn brand from General Motors has fallen apart. There were major concerns about where future product would be sourced from after the initial period where GM would have been supplying the vehicles.  It was first rumoured that Penske would turn the Saturn brand into a Costco sort of company where it would sell vehicles produced by other makes under its own brand. That rumour turned out to be false of course. The next thought was that Penske had a deal in the works with Renault's Korean subsidiary but the Renault-Samsung board rejected the idea.
If you were in the market for a new Saturn don't worry, you will still be able to have your vehicle serviced at any local GM dealer. If you are in the market for a pre-owned vehicle come visit us in Mississauga, we have a wide selection of pre-owned vehicles that would be a great alternative to a new Saturn. Visit our website at www.autodome.ca
Press Releases from GM & Penske follow the jump.
Source: Autoblog
PRESS RELEASES
Penske Automotive Terminates Discussions with General Motors to Acquire Saturn
BLOOMFIELD HILLS, Mich.–(BUSINESS WIRE)–Penske Automotive Group, Inc. (NYSE: PAG) an international automotive retailer, today announced that it has terminated its discussions with General Motors Company ("GM") to acquire the Saturn brand, citing concerns directly related to the future supply of vehicles beyond the supply period it had negotiated with GM.
Since announcing its discussions with GM on June 5, 2009, the company has been in the due diligence process to determine the feasibility of developing an independent distribution model for Saturn-branded products and service parts in the United States, including the sourcing of vehicles from GM and other potential suppliers. The company had negotiated a definitive agreement with GM to source vehicles on a contract-manufactured basis for a period of time. After this period, the company would have been required to source vehicles from another third party under a similar contract-manufacturing agreement.
Penske Automotive Group negotiated the terms and conditions of an agreement with another manufacturer; however, that agreement was rejected by that manufacturer's board of directors. Without that agreement, the company has determined that the risks and uncertainties related to the availability of future products prohibit the company from moving forward with this transaction.
General Motors Media Statement Attributed President & CEO Fritz Henderson
Today we learned that Penske Automotive Group (PAG) has decided to terminate discussions with General Motors to acquire Saturn. This is very disappointing news and comes after months of hard work by hundreds of dedicated employees and Saturn retailers who tried to make the new Saturn a reality. PAG's announcement explained that their decision was not based on interactions with GM or Saturn retailers; rather it was because of the inability to source new products beyond what it had asked GM to build on contract.
As a result of PAG's decision, we will be winding down the Saturn brand and dealership network, in accordance with the wind-down agreements that Saturn dealers recently signed with GM. Pursuant to the terms of those agreements, the wind down process will be determined and communicated shortly.
Saturn customers and owners will continue to be able to purchase and have their vehicles serviced at Saturn retailers during this process. Once the wind down is complete, Saturn owners will still be able to have their vehicles serviced at other GM dealerships. We will be communicating with our customers very soon to explain the next steps in this process.
Today's disappointing news comes at a time when we'd hoped for a successful launch of the Saturn brand into a new chapter. We will be working closely with our dealers to ensure Saturn customers are cared for as we transition them to other GM dealers in the months ahead. I'd also like to thank every GM employee and Saturn retailer who worked so hard to try to make this new beginning happen for Saturn.